So yesterday I was in Sephora, with a good girlfriend of my mine who was complaining about the after-effect of her pimples (dark marks) and she insisted on getting Peter Thomas Roth's 10% glycolic acid for $45.00. She claims that she heard it works wonders. I immediately advised her to step away from the product, took her to the nearest drugstore and showed her a product that was better for way less: The Alpha Hydrox 12% Glycolic Souffle.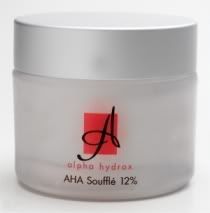 I first heard about this product from reading Paula Begoun's Don't Go to the Cosmetics Counter Without Me. This book discusses beauty products in detail and debunks all the fabulous claims of the many brands by examining their ingredients. A lot of products that claim they will "change your life," are usually ineffective, or just "nothing special" products with a beautiful packaging on them. Not so with this product. She highly recommended this. First of all, The Alpha Hydrox Soffle has 12% Alpa Hydroxy Acid (which may be a bit strong for some, so you might want to use it every other day or even twice a week). Please note: In Paula Begoun's Beauty Bible she states that Alpha Hydroxy in percentages of 4%-10% are not effective for inhibiting melanin production and thereby will NOT lighten skin discolorations. Luckily the soufflé has a 12% of AHA. It also has a PH of 4
Now, about two years ago, after I really started my beauty regimen (nutritional supplements, moisturizer and sunscreen), my pimples were gone but the dark marks remained (brown skin women know what I'm talking about). These marks were more annoying than the pimples themselves. I was getting very frustrated, and not to mention depressed (my cheeks were covered in them). My Dermatologist was recommending hydroquinone which for some reason lightened my surrounding skin and not the dark marks (go figure). After trying the hydroquinone, and trying everything under my kitchen sink, and still having no results, desperate for change, I grabbed Paula's book and read about this product. Well the results are nothing short of amazing. You must understand, my cheeks were covered by dark spots. I would wash my face; put the Alpha Hydrox Souffle on, let it set for about 5 minutes, and then put my moisturizer on after and of course my SPF30. After about a month, most of the marks on my face had lightened to the point where they were hardly visible, plus my skin glowed. This product is incredible, and although I don't use it as often as I used to (every other day) I would recommend this. Only $14.99 in Drugstores, as I've said before, Beauty does not have to be expensive.