I received an email from one of my readers asking about an effective shampoo for dandruff. Unfortunately, I know all about dandruff. It seems like eons ago, but I too, used to be a chronic sufferer of the flakey curse. I tried so many harsh shampoos: Selsun Blue (stripped my hair of all its shine), Head & shoulders, (destroyed my hair period and the effects were only temporary) and Nixoral (as soon as I stopped using it, dandruff came right back).Finally after nothing was working, my mother advised me of a natural substance called Tea Tree Oil. Tea Tree Oil contains terpenoids, which have antiseptic and antifungal activity.
After starting my tea tree oil shampoos, my dandruff was ELIMINATED. Here are the 2 I would recommend.
Giovanni Triple Treat Tea Tree Oil
Jason's Tea Tree Scalp Normalizing Shampoo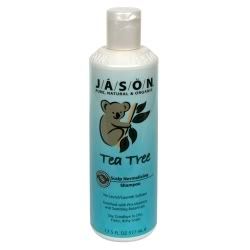 Hope this Helps,
Hugs,
Contest ends tomorrow.