I'd like to introduce you to my next Beauty of the Week. She goes by the name of Vashtie, and this woman is INCREDIBLE. This beauty has accomplished more in her young life than most people have done in their life time. She has been a director (Kanye, Pharrell & Lupe Us Placers & Chrisette Michelle video), stylist of the Billionares Boys Club clothing line, a model, and the former creative director of Def Jam. She also is responsible for these incredible parties in New York called 1992. I've gone to all of them and believe me; they are like nothing you've ever seen. One thing I love about Vashtie is she doesn't let the industry get to her; she stays the same cool and down to earth beauty. Keep a look out for this girl, because I got a feeling she's just getting started.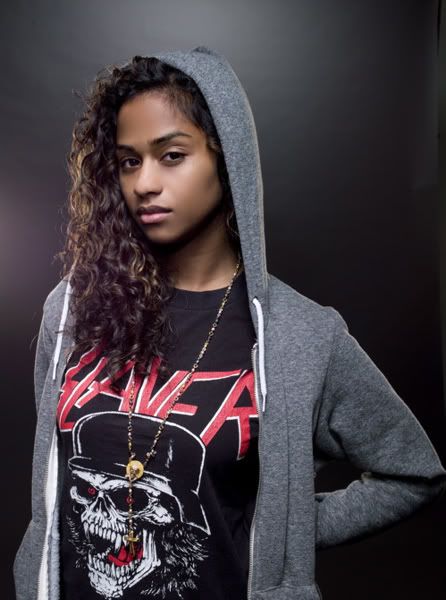 Ladies and Jets my Beauty of The Week; Vashtie Kola
What is your beauty regimen morning/night?
I wash my face with Dermalogica Essential Cleansing Solution and hydrate with a Nars moisture creme. I like my face to feel smothered in cream.

2) What's the deal with your make-up?
I'm a minimalist and don't prefer to wear make-up. although, when i go out I'll apply some black eyeliner, curl my eyelashes and apply some Tarte Cheek Stain in Natural Beauty.

3) What beauty product can't you live without?
My rosebud salve. It's so perfect and classic.
4) What beauty advice can you give us?
I think, less is more. Don't overload on makeup. I think natural is beautiful. Also make sure to MOISTURIZE!!! It keeps you looking young.
5) What is the best advice anyone has given you (this doesn't have to be beauty-related)?
Be true to who you are. I think it's obvious, yet overlooked. Everyone is beautiful in their own right, so don't get caught up in being someone else.

Thanks V,
Hugs,
DE
Want a chance to win a $100.00 gift card to Sephora. Stay tuned cuties.