Mirror Image Salon
I'd first read about this salon on my fellow beauty blogger
55 secret street's
page. Then one of my loyal readers Valerie, wrote in that she went there too, so I figured it was time for me to check it out. I'm so happy that I did.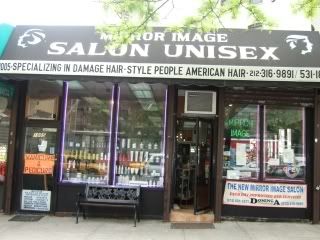 Pros:
This salon has over 13 dryer seats and 8 hair do chairs. You might be saying to yourself, "Who the heck cares, DE?" Well, you should care. This means that you will never have to wait long for a wash/set. I arrived at 9:30 on a Thursday morning. There were already six girls ahead of me, but I didn't have to wait long at all. Seriously, i was in and out of the salon in less than two hours.
Customer Sevice:
I thought it was great. The beauticians smiled at me. They asked me if I had any special preferences for my hair and most importantly they asked me how I was doing. Many times you walk into these salons, and they look at you as if they have a personal vendetta against you and your family-not at Mirror Image. They greeted me in a very friendly manner, and everyone else that came in after me was greeted the same way.
-
Products
-They offered a lot of products. From Salerm, Alter-Ego, Mizani, Nexxus, Sebastian, Luzy Colors,Infusium, and a whole bunch of other stuff I haven't heard of. They also offer some Brazilian treatment called Kera Hair that is supposed to do wonders for your locks. It supposedly takes three hours for them to work it through your tresses, and the service is around $80.00.
-The hair dryers are fantastic. Because my hair is long, I had those huge rollers, and I still had room under the dryer for my big head. And guess what, after she did my roller set, SHE GAVE ME EAR COVERS!! YEAHH! I was very happy about that.
-
The Experience
-When I sat down in Ramona's chair, I showed her the pic of what I wanted done to my hair. She told me that when she was done with my hair-it would look even better than the picture. (I love that attitude!!) She began to blow dry my hair with a 3 inch round brush. Almost immediately after she finished blow drying one section, she would then curl it with her fingers. I liked that method because usually other salons put a curling iron to my hair even after they blow-dry (therefore adding more heat to my tresses and increasing damage) but not Ramona-she clearly knew what she was doing. She took her time working on my hair too which really made me feel as if she cared about it. After I was done, my hair looked incredible.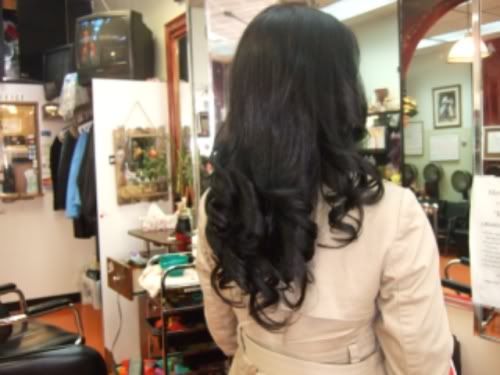 I observed two other young ladies with different hair textures than mine getting their hair done. These beauticians took their time making sure that their client's hair came out fabulous, and these 2 beauties left with such shiny, bouncy, and lustrous locks. (I asked them if i could take a pic of their hair but they said they were a little uncomfortable about appearing online, lol).
Decorum
-This salon is pretty big. It has two levels. There are over 13 dryer chairs, and 8 hair-do stations-and a pedicure station (apparently they are looking for someone to do pedicures now). But there are only 2 washer stations (which will be my only con). There are three televisions as well. There was a waiting area with around 4 chairs, and a small table with flowers. They also have boards that show the different conditioners they offer and what the conditioners are good for.Here's a pic of one: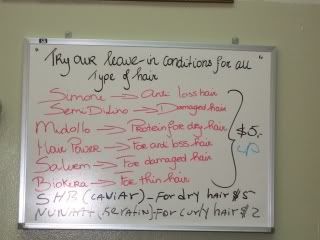 Price
-The price was $30.00-again because my hair was long, but normal price is $18.00. Usually this would have been under my "cons" section, but I liked my hair so much that I didn't mind.
Cons
My only con was that 2 hair washing stations is not enough if you have over 13 dryers. In the future they should add more.
After getting my hair done and paying, I advised them that I was reviewing the salon on my site and wanted to ask them questions. They were very receptive. I knew my readers would want to know if they worked on natural/non-relaxed hair. I spoke with a beautician named Suny, and her response was, "We work on all hair; natural hair, relaxed hair, curly, all hair. We are experts in it all." I asked if they did weaves, and they responded that although they don't put in the weaves, they know how to take care of a weave after it's in.
All in all, out of a scale of 1-5, this salon gets a 4. I would highly recommend it. If you go, please let me know of your experience.
www.mirrorimagesalonnyc.com
Hugs,
DE
Have a great weekend hot mammas!