I sometimes wonder if Essie has some sort of magical ingredient that make all their nail polishes look fabulous on me. I'm serious, I've never met an Essie nail polish that I didn't like. Besides looking beautiful, the staying power of Essie is incredible. ( I type at least 5 hours a day, and my Essie still last at least a week). Also, the names are too cute and funny. A few of my old favorites are Bikini with a Martini, Mucho Dinero and After Sex. When I found out about Essie's summer collection I had to have it, and of course, every single color looks perfect on me! I'm sure they'll look fab on you too! Here are some pics that i took at home while I was deathly ill yesterday.
I love love love
Movers and Shakers
. It's such a cute sassy and bold pink.
My place or Yours
= a beautiful sophisticated pink rose (and what a hot name!!!!)
Risky Business
=hot blend of red and
tangerine.
Guilty Pleasures
=gorgeous light pink beauty.


Secret Stash
This is such a hot traffic stopping fuschia!!
And my favorite is
Escapades
a hot Momma Sexy red coral!!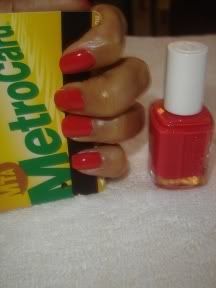 I'm obsessed with this one and have it on my toes right now!!
www.essie.com
What's your favorite Essie Color?
Hugs,
DE