Stila is offering some products to give you that golden sun-kissed look for the summer. These products work to enhance your natural beauty and not cover it up. Stila artist Sarah Lucero explains how to use them.
Sun Bronzing Powder SPF 15 ($28.00)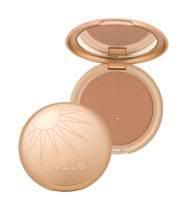 What it is:
Natural glow, no sun required.
What it does:
Provides full protection from harmful UVA and UVB rays and imparts a radiant glow.
How it does it:
Now formulated with SPF 15, this Stila classic blocks the sun without leaving you pale.
From the expert:
"This is a must–have for the summer and for all skin types and tone—it leaves your skin looking healthy and luminous," says Lucero. "For a light, sun-kissed look, use Stila Brush #8 to lightly apply Stila Sun Bronzing Powder SPF 15 Shade #1. Dust over the nose, tops of cheeks and forehead – wherever the sun naturally first touches the skin. For a tanner look, use Shade #2."
Cherry Crush Lip and Cheek Stain ($24.00)
What it is:
Lip and cheek color at the click of a pen.

What it does:
Delivers a perfect individualized cherry stain to lips and cheeks.
How it does it:
The formula reacts to the pH levels in the cheeks and lips to create a personalized blush and pout. Cherry and pomegranate extracts provides skin and lips with anti-oxidant protection.
From the expert:
"Apply with fingertips to cheeks and apply directly to lips with the brush tip applicator," Lucero recommends. "On lips, wear the stain alone or under your favorite Stila lip glaze. On cheeks, layer for intensity."
Multi-Effect Mascara
($20.00)
What it is:
A multi-tasking lash booster.
What it does:
Volumizes, lengthens, thickens and curls in a single stroke.
How it does it:
Via a revolutionary, technologically advanced formula and a unique application brush featuring a slightly slanted tip designed to get into the corners of the eyes.
From the expert:
"Multi-Effect Mascara is the perfect way to add instant drama to a clean, minimal summer look," recommends Lucero. "Just a single coat creates a head-turning eye-opening effect."
Sun Shimmer Dry Oil ($26.00)
What it is:
Glistening shimmer and a touch of color in one.

What it does:
Delivers a veil of shimmery moisture to the skin with a hint of natural tint.
How it does it:
Macadamia and kukui nut oils hydrate and smooth the skin, imparting a glowing sheen.
From the expert:
"I love this product for the beach because it replenishes skin that gets dehydrated in the heat," Lucero explains. "Layer over an SPF formula for head-to-toe radiance under the sun."
Bonus tip: Lucero says, "Leave the heavy powder at home during summer months. A great trick is to lightly dust bronzer in the t-zone to remove shine and add warmth to the skin. Try using Stila Brush #8 for a soft, blendable application."