I love being tanned-but I won't risk dying for one or speed up the aging process to get one. Nope, no sun for me! I always wear SPF 30 or higher and live on self-tanners. I recently discovered one that has led me to throw all of my other self-tanners away. Ladies and Jets, I introduce you to:
Bath & Body True Blue Spa Shade to Order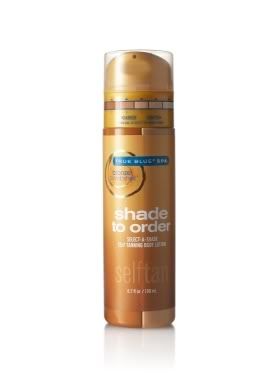 First of all, this is a tanner and an oil-free moisturizer in one, which is FABULOUS!! A great thing about this product is there are seven settings (one is the moisturizer) and YOU customize the intensity of your sunless tan by turning the dial. This is excellent for someone who hasn't tanned before because if you don't want to go too dark, try the lowest setting which is #6. But if you're a rebel like me, go the highest setting which is #1. Before using this amazing product, I exfoliated my skin thoroughly (helps prevent uneven tanning). I then turned the dial to the darkest setting and began applying. The first thing I noticed about this product was the fact that the smell was almost non-existent. It's a very light and pleasant coconut scent, that I didn't smell 5 minutes after application. Tanners usually don't smell so great, so I was very happy about this!!!!!! Seriously, in order for me to smell anything, I had to practically stick this cream inside my nostril. Also, the tanner is a pretty thin consistency, and it glided right on my skin. I applied this all over my face, legs, chest, and arms. There were no streaks at all when using this. I love the fact that this tanner is packed full of luxurious ingredients like glycerin which keep your skin moisturized, Aloe Vera to smooth skin, and vitamin E to moisturize and protect your skin.
It's now a few days later and I still can't believe how golden and sun-kissed I look. On my way to work this morning, a few people asked me what island I'd been to because my bronze glow looked so good.
This is a summer must-have and I mean it!!!!!!!
Check out my fellow beauty blogger Wes of
Honey Brown Sugar
. She blogs about her great experience as well using other items from the True Blue Tan line.
Hugs,
DE