When mineral makeup started becoming popular, I was so excited by its claims of not containing any harsh chemicals, and how it would cover all your imperfections while transforming the health of your skin. I must have bought every single mineral make-up out there. However, I just didn't like the way they looked on my skin. Usually, the colors didn't match my tan complexion, and it would look as if I had a mask on my face. By the middle of the day, my pores would be showing more than ever and my face would be left a greasy mess. I was kind of intent on not using any more mineral make-up but I recently discovered
Mineralogie
and this is making me want to put away my liquid foundations for good.
This mineral make-up really does what it purports to do. First of all, the foundation and the blush have a very high SPF of 26 (this is incredibly high for any make-up) and are described as being "very water resistant." They also offer 33 shades of mineral foundation that are supposed to match every skin tone, but if it doesn't, they will custom blend one just for you. I tried the mineral pressed foundation in the Latte shade and the Apricot Toast blush. The first thing I loved about this make-up was the adorable packaging. It comes in this chic square silver/clear container.
I love how it's not messy at all. It advises you to press three pin- holes into the seal to assure that there is no mess.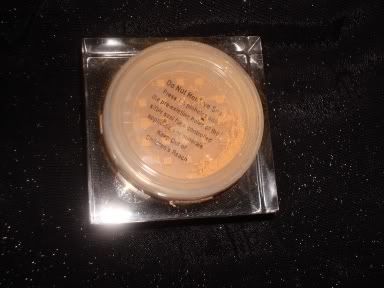 I punched in three, and then used my
Kabuki brush
to apply. As I applied the Latte shade, I noticed that this beautiful brown shade was an exact match to my skin. I was impressed!! The amount of coverage was truly incredible, however, it did not look like I had any make-up on!! This mineral make-up really made my skin look airbrushed but still very natural. Because of my tan complexion, when I get a zit or irritation on my skin, I get left with a dark mark. I usually use a concealer to cover it. However, I didn't need to use any concealer with this. An application of this made my skin looked flawless and my brown mark was not showing at all. I was in heaven!!!!! I then applied the Apricot Toast blush. This is such a beautiful highly pigmented peachy blush with a hint of shimmer. Here's a swatch.
This made me look as if I was glowing. Yesterday was a beautiful day in New York, so after having lunch with my mom, I dropped my bag off at the gym, and ran three miles in Central Park (totally forgetting to wash my make-up off). After my run, I returned to the gym and looked in the mirror. My face was covered in sweat; my eyeliner was smudged all over my lids but my skin still looked perfect, and the blush looked like I had just applied it. The staying power of this is incredible. This is a must have and I mean it.
MINERALOGIE
HUGS,
DE