When I first read Paula Begoun's book, Don't go to the Cosmetics Counter Without Me, I was in serious shock. Page after page revealed the reality of cosmetics and their ingredients. So many expensive products which I had read about before and had been purported to give amazing results, were revealed to be useless, and the cost of formulating them was often less than $1.00. I remember after finishing reading Paula's book (I read every single page) feeling (this will sound very cliché) that the truth had set me free. I no longer needed to be a snob about products. (Although, lol, sometimes I still will be.) Paula had found many products that cost less than $5.00 were often better than their $30.00 counterparts. I love that lady for being so truthful. Anyway because it's the summer, I've been on the hunt for the perfect bronzer and have become a serious guinea pig, trying as many that I can get my hands on. I recently got an email from a Marla Hernandez asking if I knew of any effective bronzers that were under $10.00. Marla, I can do better than that, I recently found one for less than $5.00 and I think the quality is exceptional.
NYC Sun 2 Sun Bronzer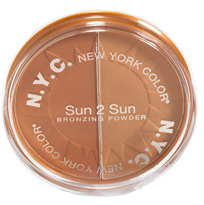 First of all this product is dermatologist tested, oil absorbing, and fragrance free. There are three shades of the Sun 2 Sun, but I used the Bronze Mist. This product comes in a split pan with 2 skin-illuminating bronzers in it. There is a little shimmer to them but its not overly done. I applied this, and my face look incredibly sun-kissed and golden but still so natural. The powder is fine-milled, and easily shows up on my skin with just one swoop of my brush. This bronzer makes me look as if I spent the day at the beach. I love the staying power of this as well. For $4.99 you can't beat the price or quality of this. FYI, I compared the ingredients of this to two of my other bronzers that cost more than $20.00-the ingredients of NYC were almost the same. This is something to definitely take a second look at.
Hugs,
DE