One of my good friends was going through a crisis yesterday so the time I would have normally spent writing today's post was used to comfort her-so no new post today except some updates on what's to come next week.
BeautyLogic &
Misikko.com
are giving you the chance to win a Fantabulous New Flat Iron –my review and giveaway coming next week.
They'll be another giveaway with fabulous products from
Mineralogie.
New Sunless Tanner Reviews.
New Hair Product Reviews.
New Body Scrub Review.
A new Word on the Street (hopefully this girl won't bail out on me like the last one did) & Blogger Beauty of the Week post.
And, in things that make you go hmmmmmmmmm, I spotted a dyed purple dog on the streets of Manhattan yesterday. Any animal lovers out there? What do you think of this?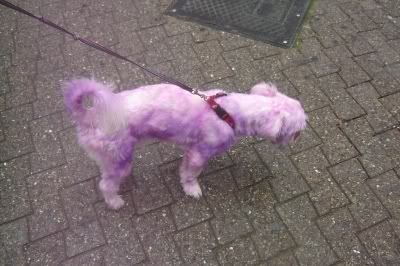 Congrats to Emily Donald for the Bath & Body winnings!
I'm also working on a BeautyLogic Myspace/Facebook Page. Yeahhhh!
Have a good weekend.
Hugs,
DE