I have a weird addiction for things that smell like blueberries. No matter what it is, if it smells like blueberries, I want it. It's such a fresh, clean, and delish scent- reminds me of my cousin's farm back in the Dominican Republic. My boyfriend constantly catches me opening up my blueberry products, and sniffing them (he thinks I'm nuts, but whatever). Here are some of my favorite blueberry scented products that actually work wonders for me, while feeding my addiction for all thing scented blueberries.
Bath & Body Works 100% Organic Vegeterian Blueberry Scrub
I bought this last week and I'm addicted. First of all this scrub is 10000% natural and not made with any parabens or any chemicals. It smells incredibly fruity and the granules exfoliate my skin so well without being harsh on my skin. I love how after I use this, I don't really need to use a moisturizer on my legs because this leaves my skin so soft, and smooth.
Whish Beauty Shave Crave Pump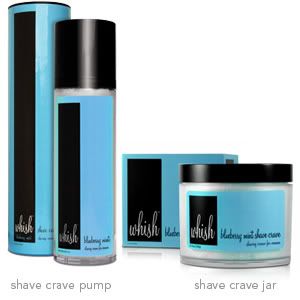 The one thing thats better than the blueberry scent is blueberry mint products! Prior to buying this, I really hated shaving my legs, but now I shave them all the time-. This shaving cream has the most amazing blueberry mint aroma and it leaves my skin super smooth, refreshed, and moisturized and I never cut my legs while using this (which is huge for me because before I would cut my legs all the time).
Essie Blueberry Banana Lotion
Ahhhhhhh, the scent of blueberry banana, yuuummy, I bring this when I get my pedis. I like them to massage my legs with this…………


The Body Deli Blueberry Fusion Fresh Cell Face Scrub
One of my bestest friends lives in Cali and sent me this recently as an early bday gift-(she knows about my blueberry obsession). This company, The Body Deli's products are all 100% organic, and natural. They claim to have this whole system of keeping the ingredients in their products alive. This product is so wondrous; I wouldn't care if the ingredients were dead (j/k). The smell of this product takes me to heaven and not only that, my face is left so exfoliated, without irritation, no redness at all, and soooooooooo hydrated and smooth. Also, blueberry is a huge antioxidant so using it on my face will keep those wrinkles away!I love this product. Thanks Shayla

The Body Shop Blueberry Body Butter
Do you want skin to feel soft as a baby's bottom? I do, and I definitely get that result when I use this product. I'm addicted to all of the The Body Shops body butter's but this is my favorite. The scent is so fruity and incredibly yummmmmmmmmmmmy. It's loaded with nourishing ingredients like blueberry oil, shea butter, cocoa butter and sesame oil. I actually own three of these because I tend to open and sniff them so much, that the scent ends up going away (as soon as that happens, I have to re-buy). However, this thick cream is so moisturizing, after using it this your legs will feel so smooth and silky allllllll day and the big plus is they'll smell like blueberries tooooooooooooooooo. Yummmmmmmmm
What are your favorite fruit scents? Are you psycho like me and buy anything that smells like blueberries? Let me know.