Last year I reviewed this salon's Queens Location and thought it was fabulous. However, after returning another time and being a little disappointed with the service, I could no longer stand by my word, and removed my recommendation. Recently though, I have been staying in Long Island (boyfriend lives there), and one morning, I needed to find a place to get my hair done for two very important events. We were driving around searching for a salon when we passed by the Long Island Location of Reaction. I walked in and I must say this salon seriously exceeded all of my expectations.
Decorum: The interior of this salon is so pretty. When you first walk in, there's a miniature waterfall on the wall. Here's a pic:
The salon is decorated in a very chic and contemporary style. The mirrors are enormous with gorgeous orange frames and the chairs (orange as well) look so incredibly modern and stylish Here's another pic
This size of this salon is enormous. It's probably the biggest Dominican salon I've been to. It has 8 hair drying stations (pictured only 4)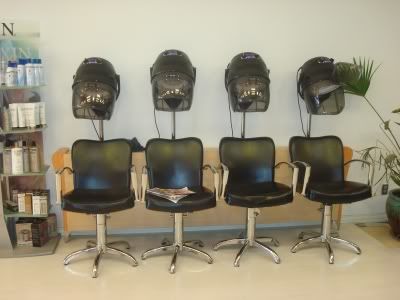 5 hair do stations and 5 hair washing stations
Everything is meticulous in this salon. Nothing is out of order, and everything is in its place (I love that).
Customer Service: The customer service was indeed great. Everyone greeted me with a smile, and asked me how I was doing and what service I wanted. Also when I was getting my hair done, the stylist kept asking me if she was doing my hair the way I liked it. Three other women walked in while I was there, and they were treated with the same courtesy as I was. FYI: the owner advised me that they will soon be offering coffee and donuts on the weekends and wifi so you can log on to the internet while getting your hair done.
Quality of Products: Ok, when it comes to products this salon has the majority of salons beat. First of all, they are an
Aveda Approved salon
, which means that Aveda walked in the salon and deemed them good enough to carry their products. Although I bring my own products to wash my hair, all the washer stations had products by Aveda, Matrix, Bain de Terre, Joice and Alter Ego. I was pretty impressed. I also noticed all of the stylists had Aveda products on their work stations.
By default they will only use Aveda to style your tresses. However, if you want another brand, they also offer, Joico, Nixoderm, Matrix, Nexxus, Alter Ego, oh, and the owner claims to have every Dominican product that has ever been made for hair-that was incredibly interesting to me. Also, four of the salon's hairstylist are Aveda trained in hair coloring.
Hair-My hair wash was really therapeutic. The lady was using her fingertips to do some serious magic on my scalp. I wanted to sit there forever. After she finished washing my hair, I advised her that I was in a rush, so she used these enormous rollers to set my hair. She put me under the dryer, but guess what, no ear covers (you know how I feel about no ear covers). Under the dryer, the intensity of the heat was really bothering my ears, but after thirty minutes they took me out and proceeded to style my hair. The stylist removed my rollers, and began using the blow dryer on a very low setting. I told her that I wanted a lot of body on my hair, so she began using the curling iron on sections of my hair, and then she would pin the curls up. Once she was done, she removed all the pins, and my hair looked like this. (I've already posted this pic before)
Also, after my good friend saw how my hair looked, she borrowed my
Giovanni conditioner
, and went to the Reaction in Long Island and here's how her hair came out (I've posted this pic before too.)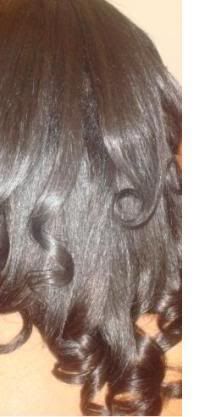 On Tuesday, I had to get my hair done again and I went back there (I was in Long Island Here's how it looked: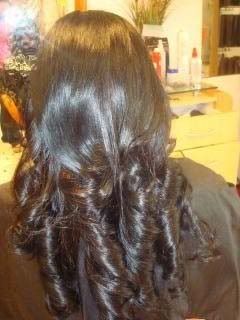 Price: The pricing to me is great. Your hair can be as long as Rapunzel or as short as a new military cadet, and they'll still charge you $23.00. HOWEVER, IF YOU BRING THIS POST TO REACTION (BOTH THE LONG ISLAND LOCATION AND QUEENS LOCATION) YOU WILL GET A WASH/SET FOR $15.00 from June 21 to July 6.
CONS: NO EAR COVERS,and the salon needs more workers. I asked two girls who were getting their hair permed what their biggest complaint was and they said that although they love this salon and they only trust them to get their hair done,a few times they have had to wait an hour to be seen. However, in my own personal experience, I was seen immediately and the girls after me were seen immediately as well.
Rating: A solid 4.5 for the location in Long Island! Remember though, if you go the salon location in Long Island (one I highly recommend) or in Queens and you bring this post, you can get a wash/set for $15.00 from June 21st to July 6.
Reaction salon