This summer has me looking at the most eye-popping shades ever. If you would have told me last year that I would be wearing green nail polish, I would have immediately laughed at you. A month ago, I never even looked at the green stuff, but lately, I can't get enough! The last few weeks have had me buying all different shades, from neon green, light muted green, forest green etc etc. Here are some green nailpolishes that I'm loving:
Dante Neon Green Gems-A hot Neon green-good for partying out with the girls!
Maybelline Express Finish Go Go Green- A medium shade of green-perfect for the toes. Dries really fast too!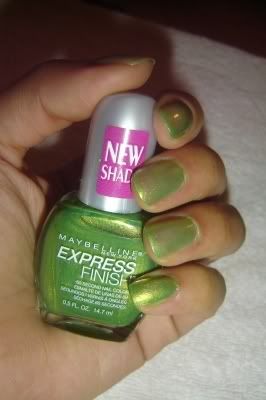 Sally Hansen Hard as Nails Extreme Wear Lime Lights-An incredibly light green with glitter!
Wet & Wild Wild & Shine Caribbean Frost-A gorgeous dark green-probably my favorite shade!
NYC Nail Big Money Frost -Another light muted green, sans the glitter.
i was looking for this one today:
Opi Go On Green
Rihanna's gone green too!
Have you "gone green?"
Would you go green?

Hugs,
DE