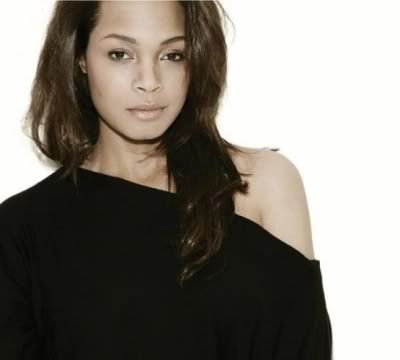 I remember the first time I ever heard Alicia Keyes sing live. It was about seven years ago. I was a seatfiller at the MTV music awards. She had just come out with her song Fallin. When she began playing that piano and started singing, I couldn't believe what I was hearing. The woman's voice was mesmerizing and it captivated me so much that by the end of the performance I was in tears. Since then, I've gone to many concerts, and never have I been so moved by a performance, until I heard Maiysha. Do you guys know her? She's amazing. Originally from the Midwest, she came to New York, attended Sarah Lawrence College, taught private school, all the while modeling for Ford, trying to pursue her dream of singing. Well I'm happy to say her dream has come true, and her album This Much is True will be released on August 26. Her voice is so beautiful and filled with emotion; and after hearing her, I found myself in tears again.
Anyway, not only was Maiysha's voice beautiful, but she's one of the most stunning women I've ever seen, so you know DE had to ask her a few questions about her beauty regime.
DE: Tell me a little about your morning beauty regimen?
M: I love Mario Badescu Glycolic Facial Cleanser and Dove Moisturize. I'm a huge fan of exfoliation.
DE: What do you use on your fabulous hair?
M: Well it's not all mine (lol) but I use Pantene. I'm a total drugstore girl.
De: What do you use for make-up?
M: I'm big on Kevyn Aucoin's skin enhancer concealer and I use two colors #11 and #13. I also use Nars Bronzer Sin & Casino. I love Nars Lipglosses but my staple is
Rosebud Salve.
DE: What's your must have beauty item?
M : Mascara
De: Which ones?
M: I recently discovered this Sephora brand mascara called Atomic Volumizer. It is great and my Clinique high definition.
Thanks Maiysha
DE and Maiysha
You guys must check this girl out
www.maiysha.com
. Her album is set to release August 26, but she'll be performing on September 11 at Joe's Pub. (I remember when Alicia was performing at Joe's Pub over 7 years ago and look at her now).
Hugs,
DE