I'm a huge fan of long eyelashes. The fact is I wasn't blessed with really long lashes like my brother so I'm a sucker for any product that claims to elongate and strengthen them. Many times, I'll spend hundreds on items that do nothing and last year someone applied fake eyelashes on me and my eye were so irritated, I couldn't open them for a week.But I recently got my hands on Marini lash and I am absolutely obsessed with this product.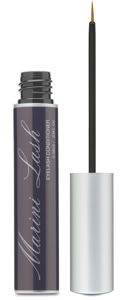 First of all I love this company. The founder Jan Marini is known as the "Derma Diva." She's known for pioneering medically-validated skin care preparations and has formed associations with some of the world's leading physicians and research scientists. Before Glycolic Acid was accepted by the mass market, she had been using it for years. She's also the first person who marketed a stable vitamin C technology for healthier skin (what a Diva!).Anyway, her Marini Lash shocked me. I've been using it for about a month. In the evening, I apply this as if I'm applying eyeliner on my upper eyelash only. It contains a proprietary peptide blend that really works to elongate my lashes. The progress is remarkable. If Mr. DE notices how effective a product is, I know it's a keeper. (The only thing he notices is the stock market.) On Saturday when I woke up, he was caressing my cheek and staring at me. He remarked, "I never noticed how long your lashes are." Keep in mind this product does not work over night. Au contrare, it takes about a month, but the results are so well worth it. My eyelashes are impressively longer and fuller now. I am so happy! (After using this, I've even dared to venture outside my house without mascara.)
I love it!
And guess what, I want you to love it too.
DE is giving away a brand new Marini Lash. Send an e-mail to BeautyLogicBlog@yahoo.com with the subject "DE,Marini Eyelash Extension Needs to be Mine" and then tell me why you need Marini. My cousin will pick out the winner on Sunday August 24 and the winner gets announced August 25.

Visit
Jan Marini
for more details
Hugs,
DE