I remember when I was growing up. Mommy and I would love to go to the Macys on 34th Street in Manhattan and go directly to the Estee Lauder Counters. Mommy' signature fragrance was Estee Lauder's Beautiful and she always had over 5 bottles of the stuff at a time. She also only used Estee Lauder make-up and skin care products. (Mommy and I love supporting women businesses). So it's so amazing to me that twenty years later, I would get the opportunity (due to Total Beauty) to go and visit the Estee Lauder Headquarters, including her office: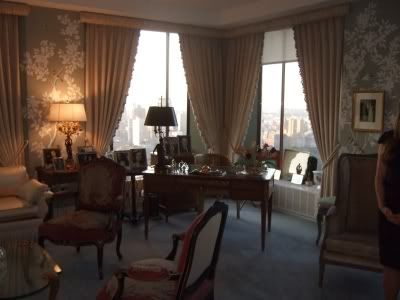 I even got to sit in her chair! It was a fantastic experience and I'd like to thank Total Beauty for that from the bottom of my heart. But another thing I want to tell you is an inspiring story that we heard about Estee.
When Estee was first starting her line, she tried desperately to get her products sold at Saks Fifth Avenue, but they kept rejecting her, telling her that her line was way too small for them to carry. This incredibly savvy woman never gave up, and one day she had an idea! She went into Saks and "by accident" dropped a bottle of one of her fragrances on the floor. The glass shattered, and the delicious aroma filled the store.
That day thousands of people asked Saks where they could buy that fragrance and the next day Saks begged Estee to allow them to carry her line. What an amazing story! And what an amazing woman! Estee reminds me so much of mommy because mommy never gives up either. She never allows anyone to tell her no and she raised me with the same beliefs. So in honor of Estee, and mommy, I'm giving away a bottle of mommy's favorite Estee fragrance, Beautiful.
Just send an email to Beautylogicblog@yahoo.com with the subject, "DE, I am making all my dreams come true. Send me Beautiful."Winner gets announced on Monday September 29, 2008.

I also want to remind you to please never listen to those who tell you that you can't do something. You can do anything and everything you put your mind to! Never give up on your dreams; I've never given up on mine.
life is so random.
How are you following your dreams?
Do you have an inspirational story for us?
Have a great weekend loves!
Hugs,
DE