Note: There are no pics of the interior of this salon because they wouldn't allow me to take any. They didn't even want me to take a pic of the front of the salon until I got the owner's permission, but you know I took it anyway (it's not that serious).
Anyway, I recently went to Sisters Unisex in Brooklyn. A few of my readers had e-mailed me about this spot so I went. Apparently there are four of them, two in Brooklyn and two in Manhattan. I went to one in BK (2 train). Let's Begin:
Interior
: The salon is a pretty decent size but they sure do a lot for the space they have. There are over twenty-seven hair-drying stations in this salon and twelve hair-do areas. (I was in and out of this salon in an hour and a half.) There are four hair-wash areas as well. They have these annoying green signs all over the salon that have different warning to the customers like: Only children getting their hair done are allowed to be in the salon, or, we can't do your hair if it's dirty, or no cell phones allowed while washing your hair, or you have to pay before you deep condition. I feel like a salon should be welcoming, and those signs weren't at all. The salon is pretty standard in decoration. Green leather hair drying chairs. Nothing overly pretty about it. Two flat screen tv's in the front.
Products:
I saw Wella & Chi products but I mostly saw Perfect for Perms, Olive Oil and Dominican Products. Not top-notch products but not ridiculously cheap either.
Customer service:
I walked in on a Wednesday Morning. For a weekday and for an early morning, I was surprised at how many people were getting their hair done already. It was like 9:00am and there were eight or nine people there. I was immediately greeted by a lady with a smile who asked me what I wanted to get done. I advised her that I came for a wash/set and she led me directly to the back to get my hair washed. Thinking about that hair wash is getting me excited! That was one of the most soothing, and therapeutic hair washes I've ever had in my life. She was massaging my scalp directly on my itchy spots as if I had told her where they were. It was so relaxing and felt amazing. I was almost crying when she stopped.
I was then immediately put into a chair and a young lady began setting my hair with rollers. I notice no one was overly conversational but I think it's because they didn't know if I spoke Spanish or not (for some reason people never think I'm Dominican). Anyway, she gave me ear covers which was a major plus for me and put me under the dryer. As I was under there, I observed two girls getting their hair done and I'll be honest, I was very impressed. One had around texture 4b hair, and I'd say the other had around 3a hair, and their hair came out very full, shiny, and volumous. I noticed that they don't like to use the curling iron too much; they'll use their fingers more. Anyway when I was done drying (it went by really fast) I walked up to the same lady that had done the other girls hair, and asked her to do my hair. I told her I wanted my hair with a little bit of volume, and she began blow-drying and curling sections of my hair with pins. Although my hair didn't come out quite what I was expecting, it came out pretty cool. The same lady that did my hair had done the other two girls hair and their hair looked incredible. Oh, another good thing is this salon opens at 7:00 am and they take the last customer at 8:30pm (great for if you want to get your hair done before and after work.)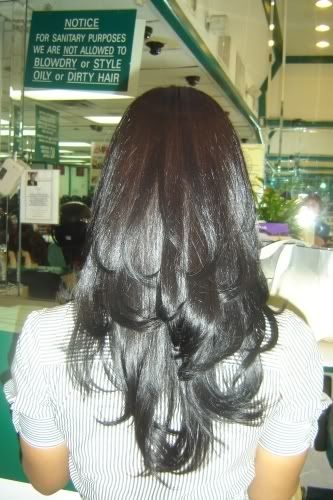 FYI: I cut 4 inches off of my hair last week.
Price:
My price was $25.00 but if you hair is short they charge $15.00, if it's shoulder length it's $20 and if it's long $25.00. If you want some highlights, it's $65.
Anyway after I was done, I asked the lady in the front a few questions: I asked her if they were comfortable working with women who did not relax their hair, and she said they were very comfortable working with all types of hair and they do it all.
Cons:
This salon seems to nickel and dime you. If you want to leave with pincurls they charge $5.00 extra for short hair, $10.00 for medium hair and $15.00 or more for long hair. Also, they might want to revamp the interior a little. My hair didn't come out exaclty like I wanted it, but it came out ok. And those signs (ones i discuss in the interior section) are such a turn-off. grrrrrrrrr
We'll give this spot a 3.5-4.
Sister's Unisex Four locations in BK & MANHATTAN.