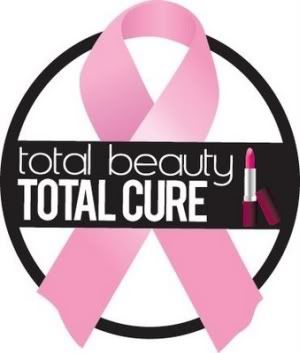 Today is the start of Breast Cancer Awareness Month. So many people I know have been affected by this horrible illness. Mommy got it three times, but beat it-even after Doctor's told her she wouldn't! (Don't I always tell you, she's amazing!) It's so sad what can happen when your own body turns on you. The results are devastating. It's really depressing that everyone I know, is friends with someone who is either fighting cancer, has died from cancer or their cancer is in remission. I'm so happy that so many organizations are taking a stand against this dreadful illness including the
Breast Cancer Research Foundation
-started by the Lauder Family. I'd like to do my share too!
Total Beauty and a few other bloggers have partnered together for the
Total Beauty Total Cure Campaign
. I'll also be having a special give away on October 22, 2008 so stay tuned.
I'm also trying to raise $200 by October 31, 2008 to donate to the BCRF foundation. Please click on the chip in widget to the right. All donations are appreciated.
How has Cancer Affected you?
What steps are you taking to prevent cancer?
I'm currently taking a stand against cancer too by eating right, getting annual breast and pap exams, and raising money for this effort as well! Also, my good friend
MischoBeauty
is running for a cure so please join her in her fight as well!
Hugs,
DE