Last week after posting about the greens that I take for my hair, I got a lot of other e-mails from people asking "What else can I use?" Well, of course I must answer the question. First of all I need to post this Disclaimer: I am not a Doctor, I have no medical experience. This is just what I use for my hair. Contact your Doctor before trying any regimen just to make sure you're not allergic.
Anyway back to the subject a hand. Another supplement that I use for hair, is MSM, which is methylsulfonylmethane. I've been taking this stuff for years and really believe in its positive effects on my hair, skin and nails.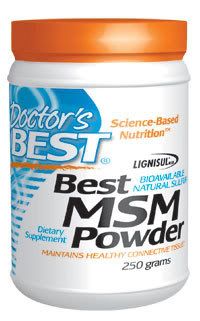 MSM is basically a naturally occurring sulfur that is supposed to be found in certain foods but because of cooking it's lost in the process. MSM is found in all tissue and is necessary for the production of collagen and keratin which helps with great skin and long hair. According to
HAIR LOSS.ORG

"a study conducted using MSM by a Dr. Ronald Lawrence M.D, PHD "showed that 100% of the subjects on MSM (methyl-sulfonyl-methane), a nutritional supplement that provides biologically active sulfur, showed increased hair growth compared to the group on placebo. In addition, 30% of the subjects on MSM showed improvement in hair brilliance, while none of the subjects on placebo showed such an improvement."
I've been using this stuff in powdered form for years and personally see the positive effects on my hair (increased growth with amazing shine) and nails (long and strong).
The taste isn't bad either. Actually there's not really a taste to it.
Something to consider
I hope this helps!
Hugs,
DE