I got an e-mail recently asking if I could recommend a shampoo that clarifies the hair, but doesn't strip it. Now, the night before I go to the salon, I give myself a scalp massage using a good amount of coconut oil. I need to have a clarifying shampoo on hand the next day to remove the massive oil from my hair. One that I highly recommend is the Giovanni Tea Treat Oil Shampoo: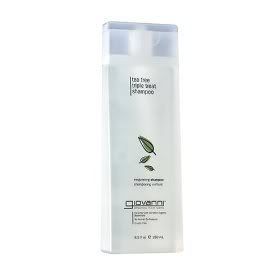 I've recommended this before as a good treatment for dandruff, but I also find that this not only cleanses the hair thoroughly but it doesn't strip or dry it out. When my hair-washer massages this in my scalp, there is this amazing tingling sensation that really let's me know its working. It has a strong scent of peppermint, and I find after using this, my hair is clean, still bouncy and with a lot of shine. (I notice a lot of other clarifying shampoos will strip your hair of its natural shine.)
What do you use to clarify your tresses?
Hugs,
DE