Because I try to run 2 miles a day, constantly wear heels, and walk like mad, the bottom of my feet can get a teensy bit hard. Ok, let me not tell a fib, if I don't take care of my feet they can begin to feel as hard and dry as rocks! For the last 3 weeks, I haven't really had the chance to get a pedicure, (life is crazyyyyyyyy right now). So before I go to sleep, I've been applying this lotion by Miss Oops called Pedicure in a Bottle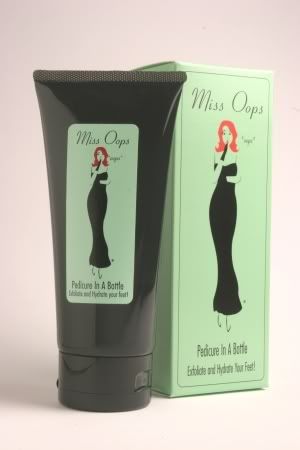 on my feet and wearing socks to bed. This is a miracle worker. It's been 3 weeks since I got a pedi. Usually by now my feet would be cutting through my shoes, but they are still incredibly soft and smooth (must be the glycolic acid this has in it or the lemon and sugarcane extract). I love the cute message on the bottle "Apply daily until you can no longer sand furniture with your feet." Whatever it is, I love it and it works!!!!
www.missoops.com
What do you use to keep the bottom of your feet from scraping your wood floors?
Hugs,
DE