I can't stress to you hot mamas the importance of working out. When I was a little Dominican Enigma, I was never active and always felt sluggish, and just exhausted. For the past three years though, I have been pretty consistent with my work outs, to the point where if I don't work out, I don't' feel so great. I try to run at least two miles a day. Working out is so beneficial for your health and your overall beauty. You'll find by working out, your body will feel so much better. You will have a lot more energy and your health will improve and you'll look a lot younger than your age. Also you'll feel better. When you work out your brain releases endorphins which cause you to feel a natural high and studies have shown that working out has a lot of the same therapeutic effects as a therapy session. One thing DE can't stand is laziness. Motivate yourself! Go to the gym or just workout at home by doing some jumping jacks, squats (you'll give yourself a nice shaped butt doing those) sit-ups, and lunges.
Here's Jennifer Lopez working out
Beyonce works out 6 days a week. Can't you tell?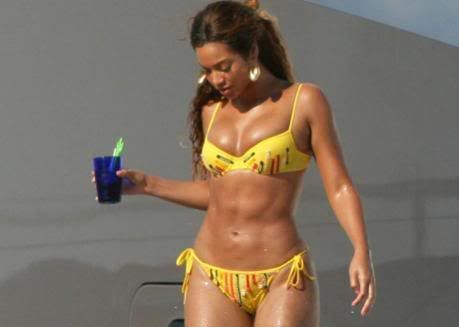 Do you workout?
Hugs,
DE