In 2006 Latina magazine voted Elia Beauty salon to be the best Dominican Salon in the United States . As a Dominicana, I was curious to go over there, and when I found out that my buddy lived a few blocks away, I made sure to make the trip. I'm happy to say that I did.
Interior:
The salon itself is very pretty. They have these really beautiful chandeliers on top with burgundy walls. There are 5 hair-do stations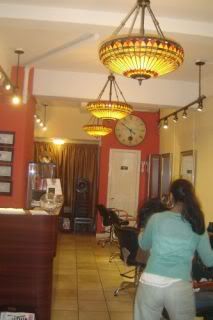 3 hair washing stations,
and 6 hair dryers stations.
Customer Service.
When I walked in, I was immediately greeted with a smile by one of the hairstylist who asked me what I wanted. I advised her I wanted a wash/set and she asked me to fill out a "Check in Sheet" The sheet asks basic questions like your name, reason for coming, how your hair/scalp is and how would you like your hair styled. I thought that was incredibly interesting. Then because I was a new customer, I was told I should fill out a customer questionnaire because they wanted to evaluate my hair. I liked that! The ladies then offered me some coffee and some poland spring water. How nice was that. I noticed that the salon clientele was a great mix of people, from Caucasians, African Americans and Asians. Upon looking at the walls, I notice that every single person styling hair in this salon had a license. I was pleased. Many Dominican salons do not have many licensed hairstylist working there. I then met Elia, who is the owner. This woman is so friendly to the customers. She seemed to know everyone's name. She then evaluated my hair and even my hair products. It was then that I realized that she was incredibly knowledgeable about hair and the ingredients in the products.
Quality of products:
I was in shock at how many really good and high-end products this salon offers. They had products like Frederick Fekkai, Phyto, Chi, Ojun, Biolage Luna, but they also do offer Dominican products.
Hair:
My hair wash was very relaxing. The woman that washed my hair was thorough. She massaged my scalp, and I was in heaven. She then put my hair in curlers and gave me ear covers wrapped in tissue paper (for sanitary purposes). Love love love it! I showed them a picture of how I wanted my hair done and Rocio (the hairstylist) assured me she would do it exactly the way I wanted it. After drying for around 60 minutes, I was led to Rocio, who immediately removed the curlers and began lightly blow drying my hair, while curling my hair with her fingers and pins. She took her time with my hair, and then when she was done curling it with her fingers, she asked me to sit under the dryer for 5 more minutes. After I did that, she took the curls out, told me to wiggle my hair, and voila! It came out exactly like I wanted it. Full of body and with a nice wave to the front. I was super happy! I also observed another girl getting her hair done. Her hair was probably Texture 3b, and it really looked superb. She was from the Bronx , but comes to Elias to get her hair done.
Here's my Hair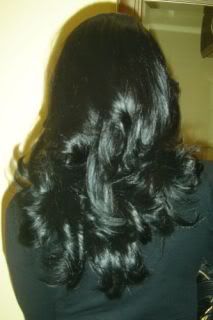 Pricing:
The pricing is a little high here. I paid $30.00 for mine but I'll be honest, I loved loved loved my hair and think it was totally worth it.

Cons:
Without a doubt, this salon needs more hair wash stations. Three is not so great (what happens when it gets busy) and the price was a little more than what I'm used to in Dominican Salons.
After I got my hair done, I spoke to Elia and asked her a few questions. Many of my friend are non-relaxed beauties, and I wanted to make sure that this salon was fully equipped in dealing with them. She said that they dealt with all types of hair and had no problems with that.
On a scale from 1-5, this salon gets a solid 4.5. The customer service, the interior, and my hair were all fabulous!
Here's a plus! If you go to Elia's and say you came from BeautyLogic, they will give you a free deep mask which retails for $15.00.
Let me know what you think!
Elia Hair Salon
850 Amsterdam Ave
New York , NY 10025
Between 101 and 102nd street
Take the 1 Train to 103rd street
212-316-3100