Your skin is your most important asset-especially the skin on your face. I remember when I interviewed Actress Michelle Rodriguez (you can read that
here
) and she stated that she was more concerned with the health of her skin, than having to cover it up with make-up. That's very good advice. The least make-up I need to wear the better, so most of my skin-care products are loaded with highly-effective and proven ingredients that don't irritate my skin and keep it in tip-top shape. Anyway, with that being said, my latest face wash is Avalon Organics Hydrating Cleansing Milk.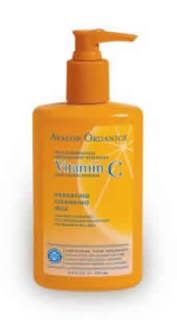 One thing I really hate is when I wash my skin, and it's dry and tight afterward. This cleansing milk is loaded with nourishing and natural Borage and Flax oil (I take both in supplement form) and it leaves my skin very soft and silky with no tightness at all. Plus it contains a stabilized form of potent antioxidant Vitamin C called Magnesium Ascorbal Phosphate that penetrates my skin cells and will keep me looking 21 forever :-)
What's your favorite face wash?
Do you use Avalon Organics?
How was your Weekend?


This week is Giveaway week, where we're going to feature a new giveaway every day staring tomorrow, (tomorrow's giveaway will be a whole new nail polish collection). Also, we'll also be having BeautyLogic's biggest Giveaway EVER so stay tuned!!!!!
Hugs,
DE-