Hey mamas, I always feel like the Christmas holiday is officially here when the Rockefeller tree goes up. It's an amazing occasion, and since I'd always just watched it on TV, this year, I wanted to go experience it in real life. So, me, Mr. DE and a few of our friends went and had a blast! We shared a lot of laughs, hugs, and …….drinks. Now I have a big headache. So no new post today, but here's a pic of the tree. I'll be back tomorrow with a new product rec.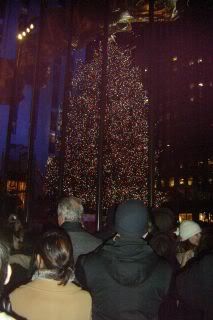 Have you put your Christmas tree up yet?
When do you usually do it?
Mr. DE doesn't want to put one up, but I'm putting it up anyway!
Hugs,
DE