I got an e-mail last week from a guy who's girlfriend is a reader of mine, and a beauty lover as well. In addition to three other gifts he's already gotten her, he wanted to buy her the perfect beauty gift. First of all, I want to say that your girlfriend is so lucky to have such a good guy like you. That is really sweet that you are putting so much thought into her presents! (I sometimes think Mr. DE gets my gifts the night before, lol j/k) Here are some of my personal recs, and girlies if you have recs too, please leave them in the comment section. Let's help this nice guy out!
THE CLARISONIC- PERSONALIZE IT-FREE ENGRAVING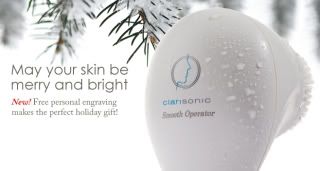 We reviewed this product before on here and gave it rave reviews. A great thing about it now, is you can actually get it engraved with a personal message. So not only is she getting a top-notch beauty product, but she'll also see your words of love written on it too.
A Day of Pampering at Her Favorite Spa
When my honeybunn got me a day of beauty at my favorite spa, he was a very happy man for a while. Lol
Tarte Vanity Limited Edition Set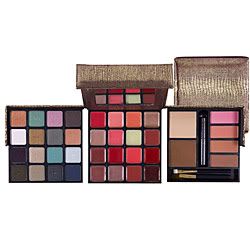 This limited edition palette is loaded with so many products, it's crazy. 16 brand new eyeshadows, 16 brand new lipglosses, Deluxe lights Mascara, Mineral Powder Bronzer in Park Avenue Princess, a Deluxe Luminizer, Four Powder Blushes, Eyelining Brushes, Deluxe Eyeshadow, and eyelining Brushes. This is a MAKEUPLOVERS DREAM.

Beauty Gift Card
A lot of people may think that gift cards are not personal, but I disagree. A gift card allows you to buy anything and everything you want at your favorite spot! Why wouldn't you love it!
Bag full of Beauty Goodies,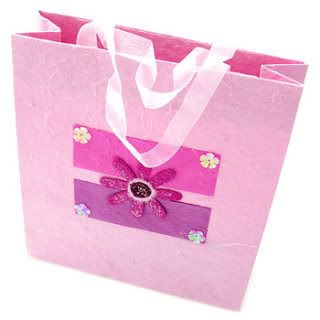 Why not do something very creative and buy a nice bag and give her some of the products we've recommended on this site (since she's a big time reader). From Jan Marini's serums, Carol's Daughter scrubs, Sally Hansen or Essie Nail Polishes, Aubrey Honeysuckle conditioner, FHI Flat Iron, Lancome Mascara, NYC Bronzer, and Clarisonic. The list goes on and on.
What do you think he should get his girlfriend?
Help Him out!
Winner of the Carol's Daughter Hair Milk is Shanescia Eddie. Shanescia, you have 2 days to e-mail me or the prize goes to someone else.
Big Hugs,
DE