Sally Hansen has introduced their Salon Pedicure Set which includes the Mineral Foot Soak, Intensive Gel Callus Remover and Hydrating Foot Creme. Now, as you guys know, I take extra special care of my feet. Since I'm an aspiring reporter, one thing I do is walk a lot (since the news business is getting a little tricky, I'm thinking about starting my own news channel on youtube. I'll talk about that later) so if I don't give my feet constant attention, they could end up looking disgustingly callused, dry, and ashy. Now one thing I always do when I come home is give myself a warm, foot soak (it's important for keeping those calluses off and relaxing me). Lately I've been using Sally's Salon Mineral Foot Soak and really feel the stress coming off of my feet when I use this.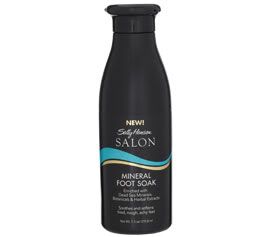 It contains Dead Sea Salts and Herbs, and has this therapeutic aromatherapy scent that really relaxes me after along day of work. The dead sea salts really sooth my over-walked feet and they leave the bottom of my feet really soft, perfect so I can begin to exfoliate them with my pumice. (I don't like any calluses on these feet!)

I love this!!!and I want you to love this too. I'm giving away not only the Sally Hansen Mineral Foot Soak, but the entire pedicure kit which includes the Salon Ultra Smoothing Foot Scrub, Salon Intensive Gel Callus Remover and the Salon Hydrating Foot crème. Just send an e-mail to beautylogicblog@yahoo.com with the subject being "DE, my feet need to be soft like a baby's too." Winner gets announced Wednesday Dec 10!