One of my favorite (although pretty expensive) brands is Make up Forever. Ever since I got my make-up done professionally for head shots, and the make-up artist used their products on me, I fell in love, especially with their Iridescent Navy Blue eyeliner. The blue is such a robust shade, and made my almond shaped brown eyes really pop out. It's absolutely gorgeous! Right after I was done with my shoot, I ran to Sephora and picked one up. About a month ago, I was running out and was heading back to Sephora to restock. On my way there, I had to stop by Duane Reade and pick up something for Mr. DE. Now, as a beauty fan, you know I can never just walk past the beauty aisles. I have to spend a few moments looking at the products, and checking all the new inventory out. As I was looking around, I noticed the Fresh Minerals display and their eyeliner selection.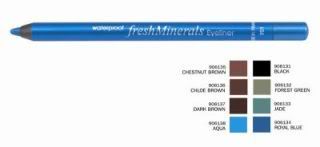 Their $4.00 Royal Blue waterproof eyeliner looked exactly like my precious $16.00 Make up Forever one. Although I was hesitant to betray my Make up Forever, I reluctantly picked up the Fresh Minerals one (hey $12.00 in price is a big difference, I could buy my lunch with that) and I'm so happy I made the change. The Fresh Minerals Royal Blue is almost exactly the same shade as my Makeup Forever, a gorgeous, almost black but noticeably brilliant navy blue, and it glides on so smoothly -even after a gazillion times of applying. It's waterproof, and stays put on my eyes all day. I love this stuff, and at $4.00, I think you'll love it too.
What eyeliner do you love?
These are hard times; do you have any cheaper alternatives for more expensive products?
Big Hugs,
Have a great weekend!