I tend to think of myself as a traditional woman. Mr. DE and I have been together a few years now, and although we are not free from problems, our relationship seems to be pretty strong. (At least I think it is.) This weekend a friend of mine e-mailed me to announce that she was getting engaged. Now this is a friend that I rarely see but because we text, e-mail and instant message so much, I consider her to be one of my closest buddies. After her announcement, I wanted to take her out to dinner so I met up with her at my favorite union square sushi spot, and we began taking about her relationship. I knew she was dating this guy in passing, but I didn't realize they were serious. She began describing how happy she was, but then she said something that kind of made me feel uncomfortable. Now before I continue, please note, I believe that every relationship should find what works for them, but this was well a little too much for me.. She stated that her man and her had discussed the possibility that he may stray from time to time with other women, but she must not get offended because his heart is with her.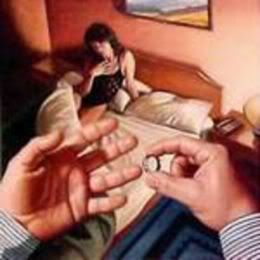 After almost spitting out my eel avocado roll in anger, I asked her why? Why would she accept such conditions? Did she not feel that she was beautiful, successful enough and worth a man that could be 100% faithful to her? She responded with an answer that boggled my mind, she said "DE, wake up, all men cheat. It's better that he does it in front of me, then behind my back." Do I believe all men cheat? I have in the past-yes. I grew up with a brother, and around many family members who believe that cheating was a way of life, but I've also had many male friends who love and respect their wife and the strong bond that they share, and would never stray or risk loosing that for a pretty face or a sexy booty. As I tried to convince her that she would never be happy knowing that her man was having infidelities, and he would never stop because she had given him the go-ahead, the more and more she resisted, getting angrier every time I spoke. I realized that this was a dead issue, and that if this was what she felt would work for her, then who was I to stop her.? But I left the dinner feeling incredibly uneasy. As a woman, I get constantly hit on (I'm sure all of you hot mamas do as well). Many times the men are incredibly handsome,funny, and successful, but I love Mr. DE, and could never betray him in any shape or form, so my thinking is, if I could control myself and my urges, and say No to a sexy man, why can't the man I'm with be strong enough to do that as well? Why should I settle for someone who doesn't believe that I'm worth that respect? I wouldn't and neither should you.
What do you think of this situation?
Do you believe all men cheat?
Remember that people will only treat you the way you allow them to!
Big Hugs,
DE