Hey guys, how was your V-day? Mine was nothing short of amazing. Mr. DE and I got engaged in what was one of the most beautiful proposals ever. I'm so excited! If you want details, please e-mail me. :-)
But let's get back to beauty. That night, I had on the most gorgeous new lip gloss by one of my favorite brands Golden Goddess. The brand was started by Shaline Vadhera and you know how much DE loves supporting women businesses. Well her Moroccan Golden Goddess Lip Veil in Cardamon is one of my new fave lip glosses. (It will now hold a special place in my heart because I was wearing it when Mr. DE proposed).
My lips had this gorgeous golden but neutral shiny tint to them and they felt so moisturized without any stickiness at all. My lips really looked so beautiful, and the color goes so well with my bronze skin. This also contain SPF 15 which is always great! I love this.
Have you tried Global Goddess products?
Oh so after that, Mr. DE and I saw Slumdog Millionare. First of all, the actress Frida Pinto is so stunning, she takes my breath away. Second of all, that's such a great love story. Ahh, **drooling over Jamal saying "She is my destiny."**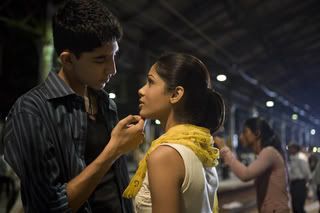 Have you seen Slumdog?
Hugs,
DE