I remember a few years back when I worked in finance, I practically lived in spas. I would constantly get facials, manis, and pedis at the drop of a hat. Now with the recession here, and with me trying to pursue my dreams of being a reporter, I can't even imagine going to a spa as much as I used to. However, I recently visited the the new Dermalogica spa in Soho, and I wanted to let you know of a fantastic, treatment they offer for a very affordable price.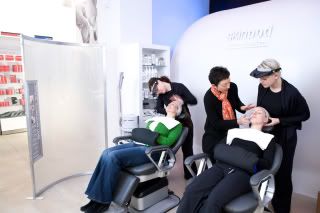 The treatment I got was called the Microzone treatment. It's a 20 minute targeted treatment that you choose. They offer flash exfoliation, eye rescue, lip renewal, blackhead relief, rapid spot clearing and a few other things. I choose the blackhead treatment because I sometimes get blackheads on my nose. First of all you sit down on an incredibly comfortable chair where the Dermalogica representative does something called a "Face Map." That means she puts your face under a medical light and examines your skin. She told me so many things about my skin that I didn't know. Then she used a pre cleanse treatment on me which is this treatment that contains nourishing oils and water that adheres to makeup and removes it. Then she exfoliated my skin and then used this substance called Desin crustacean to soften my skin. Then she used something called a B& T microblade that softened my skin some more, and then she used high frequency to add oxygen to my skin. Then she extracted the blackheads. I don't know if you guys have ever had an extraction before, but most of the time they are incredibly painful. Not this one. I barely felt anything. At the end I thought she really hadn't done anything until I looked at my nose and my blackheads were
COMPLETELY GONE
. Then she used the Microblade again with something called a mediblex complex that added an antibacterial aspect to the skin. Honestly, this was one of the best treatments I'd ever gotten. The whole time she was doing the treatment, she was educating me on my skin My blackheads were completely removed, my skin was much softer, and I had this fantastic glow.
BUT THE BEST THING WAS THE PRICE. IT WAS ONLY $35.00
and completely worth it! I loved it. Ask for Gretchen when you go. She's been at Dermalogica for years, and was fantastic.
DERMALOGICA
110 Grand St
(between Mercer St & Broadway)
New York, NY 10013
(212) 219-9800
www.dermalogicainsoho.com