I never post about products that I don't like. I try to post only about products that I think work. However, I am required to say if I like this product or now, so I will say that I did not like this mascara. Maybe I would have liked this prior to trying Maybelline's Lash Stiletto. However, since trying Maybelline's Lash Stiletto, I now hold drug store mascaras to a whole new level. (Yes, Lash Stiletto is that amazing). This mascara doesn't even come close.
Max Factor 2000 Calorie Extreme Lash Plumper
The brush is very similar to covergirl's Lash Blash. Very thick with medium sized bristles.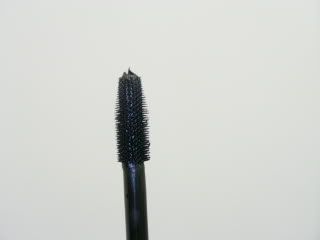 However, that's where the comparison ends. This mascara really didn't elongate or give my eyelashes that much volume. Max Factor claims that this mascara is different from others because "it's a patented fat-inject formula and extreme Double-D brush plump every single lash so perfectly, so voluptuously, they may ask, "are they real?" I know that I didn't get any comments about "are they real?" This mascara is just ok. Is it worth the buck? Not really. You can buy a more effective mascara for the same price. So with that being said, DE says, Save your money! or just walk down the aisle and pick up Maybelline's Lash Stiletto.
Hugs,
DE