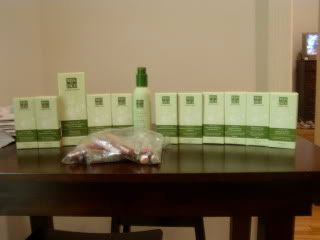 Hey guys, we're heading to the end of my giveaways. Hope you've enjoyed them. Our new giveaway is Kiss my Face's Potent & Pure collection. Yes DE, is giving away a huge amount of product. In this Giveaway, you'll get
-the Kiss M Face Creamy Face Cleanser
-Kiss My Face Eye Repair Creme
-Kiss My Face Ester C Serum
-Kiss My Face Ultra Hydrating Moisturizer
-Kiss My Face Facial Creme Sunscreen
-Kiss My Face Botanical Acne Gel
-Kiss My Face Intensive Repair Night Creme
-Kiss My Face Deep Cleansing Mask
-Kiss My Face Brightening Day Creme
-Kiss My Face Antioxidant Toner
And I've also enclosed Kiss My Face's gorgeous Lip Tints. You lucky girls.
Now I've tried a few of the Potent & Pure line. Remember, I only have one face and can't try everything! But, their jojoba and mint facial scrub is really good. My skin feels cleansed but not tight at all after using which is very important. You can find out more about the Kiss My Face Potent & Pure Line.
www.kissmyface.com
To Win this line, send an e-mail to beautylogicblog@yahoo.com with the subject being
"DE, Send me some Kiss My Face Now." Winner gets announced tomorrow.
Hugs,
DE
Winner of the Jan marini collection is Nikki Watson. Cudos to Nikki for sending me a very funny e-mail. I hope you get your groove back. Nikki, you have 2 days to respond to this e-mail or I'll have to give this to someone else.
HOW WAS YOUR WEEKEND LOVES? MINE WAS PRETTY GOOD. I HUNG OUT WITH FAMILY AND FRIENDS. THOSE ARE ALWAYS FUN.