Hey guys,
I hope you had a great weekend. Mine was pretty amazing. Anyway, don't kill me but I didn't get a chance to do my hair tonic video this weekend. I was away and was supposed to get back on Sunday, but I ended up getting home on Monday. I'm sooo sorry. Are you mad? Please don't be! IT'S COMING!
I wanted to talk to you girlies about some amazing polishes that I love love love. There the Sally Hansen Insa-dry Collection. These polishes are really good for many reasons. Although they don't try instantly, I'd say they dry COMPLETELY in about 4 minutes. Also, the polish last forever. I got a mani on Friday morning, and today (Tuesday)is the first day that I see any sort of chipping. The colors are so beautiful, bright, and fun for the summer months. Here are 8 that I've tried.
Sally Hansen's in Instant Iris-a gorgeous sexy purple.
Sally Hansen's Beautiful Orange You Fast-a gorgeous orange that screams Summer is here baby!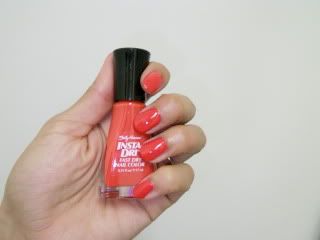 Sally Hansen's Coral Rush- A luxuriously super bright pinkish red. Just stunning on tan skin.
Sally Hansen's Brisk Blue-This is my favorite color, It's so bright, and blue. It just makes me happy!
Sally Hansen's Flyin Fuschia-Another exquisitely light pinkish red. Not as bright as Coral Rush, so it makes it a little more appropriate for work.
Sally Hansen's Lickety-Split Lime-Last year I had an addiction to green polishes, but this year I thought I'd put them away. But after finding this color, I may just keep green in my collection.
Sally Hansen's Rapidly Rosy-a bright and gorgeous pink. My second favorite color
Sally Hansen's Lemon Dash-A sunny and breathtaking yellow.
Well you know what time it is. I'm giving away Sally Hansen's 8 gorgeous insta-dry colors. NEW ONES, NOT THE ONES I USED. LOL
Send an e-mail to beautylogicblog@yahoo.com with the subject being "DE, I need some Sally Hansen insta-dry in my collection." Winner gets announced on Thursday.
WHATS YOUR FAVORITE COLOR IN THIS COLLECTION?
Hugs,
DE