As I've said to you guys before, my hair never grew when I was growing up. It stayed shoulder length forever. So when mommy saw my frustration, she quickly took over. (I love that woman!) She saw me buying endless products like "Hair Gro-Fast" "Quick grow" and countless other crap that did nothing but make my hair a greasy mess. I found out later a lot of those products contained mineral oil (which should never be put on your tresses). Mommy has always been into holistic things, and she asked me if she could take over my hair regime. I was desperate but then I looked at mommy's long mane and I decided it was time to let the woman work her magic.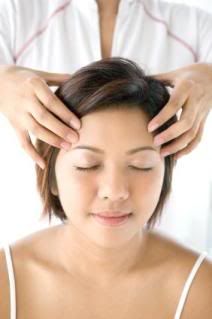 So every night, she would massage my scalp for around 5 minutes in circular motions, never with her nails, always with her fingertips. She would start gently at first but her touch would get firmer and firmer as the massage progressed. Have you ever had a scalp massage? Those feel heavenly. (Give your man one, he'll love you forever). She would do it for four days straight and then on the fifth day, she would use coconut oil and olive oil and do it for around 10 minutes. The results were great. After months of these massages, my hair began growing. I also began implementing the hair tonic (all mommy's ideas) and my hair truly began to see the difference. Ten years later, I continue to massage my scalp, and drink the hair tonic (although I usually do my massage twice a week). I've gotten e-mails from people who have looked at my youtube and said that once they began massaging their scalp, their hair began to grow. According to Hair Loss Expert
"The kneading pressure applied by massage warms the skin and opens up blood vessels to increase flow and boost circulation. Increased circulation means that the cells of the hair follicle will receive more of the nutrients necessary to optimal hair growth function."
If your hair is not growing as fast as you'd like, try massaging your scalp. Add coconut oil to the massage maybe once or twice a week. Coconut oil is scientifically proven to be one of the few oils to actually penetrate the hair. Please note that your hair itself is dead. Nothing that you apply on your hair directly will make it grow. That's why massaging your scalp is so important because growth starts from the base of the scalp. Also massaging will help terminate dandruff, and other hair issues.
Hope this helps,
Do you massage your scalp?
Hugs,
DE