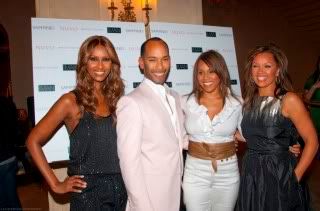 Last Thursday I was invited to the launching of Sam Fine's The Basics of Beauty DVD party at The Warren Tricomi Salon in the Plaza Hotel.
If you don't know who Sam Fine is, he's one of the most recognized make-up artist in the world. He's made models and Goddesses like Iman, and Vanessa Williams look amazing. Both of those beauties were at the event as well as many other celebrities. It was seriously star-studded. It was a very cool event. I spoke to Sam for five seconds, and he seems incredibly wonderful and very gracious.
Anyway, you know DE's a social butterfly so I mingled and saw two of my blogging buddies, Wes of Honey Brown Sugar and Carla of Brown Girl Gumbo. Both are beauties as well. All in all, I had to leave after a few minutes though because I had another engagement, but what I thought was hilarioius was that another girl had my exact same dress on. My friend Cassie noticed it first and she told me we should make a run for it before anyone noticed. But, I thought it was so funny, and I approached the beauty. We both had a good laugh about it and we even took a pic.
Turns out she's another beauty blogger as well. Her blog is called ThisThatBeauty. We commited a Fashion faux Pas, but hey who cares!
Hugs,
DE