As you guys know, I'm a huge believer in positive thinking. Negative thoughts lead to nothing but negative experiences but positive thoughts can lead to amazing realities. It's hard for many people to think positive when they've had so many negative experiences. My life hasn't been always great (it's still not) but I never allow that to get me down. I know as long as I believe in myself, and in my purpose, everything will come to place. This weekend though, I had a moment of self-doubt. Recent lay-offs in my industry had me really doubting my reporting dream, and left me wondering if maybe I was taking the right path. I started to research "safe" careers like nursing, and wondered if maybe I should stick to that instead. The doubts haunted me for around two hours but then I picked up one of my favorite books.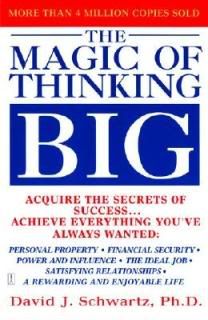 I read it all over again and realized how valuable this book was to me and of course DE had to share it. Yes the economy is bad, yes all industries are having lay offs but that has nothing to do with your abilities. After finishing this book (for the 20th time) my doubt disappeared immediately. I'm aware of the bad times but I'm also aware of my capabilities, and I know that the belief in myself, and in what I'm able to do, will lead me to find my way in this field. The book has so many powerful passages, that I'd like to share with you.
1) Eliminate the word impossible from your thinking and speaking vocabularies. Impossible is a failure word. The thought "it's impossible." sets of a chain reaction of other thoughts to prove you're right.
2) Believe it can be done. When you believe something can be done, your mind will find the way to do it. Believing a solution paves the way to solution.
3) Don't look at your faults and think to yourself, "Here's another reason I'm a loser." Instead view them as mistakes and think "Here's another way to make me a bigger winner."
This book is one of the most motivational books I've ever read (and I've read it many times.) Seriously, pick it up. You will love it.
HOW DO YOU KEEP YOURSELF MOTIVATED?
How was your weekend?
Hugs,
DE