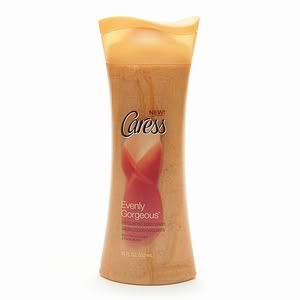 Caress Evenly Gorgeous Exfoliating Body Wash
I used to spend so much money on shower gels. But then I started thinking. "Why spend so much money on something that washes off, no matter how good it smells." So I started to buy my showergels in drugstores instead of Sephora and once I found Caress' Tahitian Vanilla, I fell in love. The smell was delish, and it lingered on my skin for hours. Needless to say Caress became my newest addiction. I recently got the chance to try Caress's newest showergel, Evenly gorgeous, and my my my, this is seriously great. First of all, like most Caress gels, it has this delicious aroma, sort of like a vanilla , caramel, just yummy! It's loaded with burnt brown sugar & Karite butter which leave DE's skin not only exfoliated but moisturized and fabulous as well. No wonder Kim Kardashian loves it.
Have you tried Caress' body gels?
Have you tried the Evenly gorgeous one?