As you guys know DE is a nailpolish junkie. I love love nailpolish. Rarely do I ever match my toes with my fingers. There are way too many nailpolish shades for all that. Anyway, I recently discovered the Zoya nailpolish line, and I'm hooked for a few reasons. First of all this nailpolish is Formaldehyde, Toluene, Dibutyl Phthlate and Camphor free. The colors last forever –seriously, I had a shade on for more than four days before I needed to reapply on my fingers (that never happens) and the drying time is very fast-especially for their new Limited Edition Matte Velvet Collection. These colors are just so beautiful and rich, and look fab on my nails. Although these are meant for the fall, I'm already wearing the Posh Matte Shimmer on my nails. This gorgeous red is stunning. I love red polish. There's no shine to them, just a rich, intense matte red. I love it.
The other two shades are incredibly vampy and sexy. The Loredanda is a grey infused with some glitter. I'm loving it too, and will definitely be wearing it with a hot red dress that I have.
The last color is Dovima a seductive shade of black. Black polish has never been a part of DE's regimen until now. I'm thinking of changing it up this year, with some hot red lipstick, and black polish (I could drive Mr. DE crazy with all this sexiness!)lol.
Here's the shade.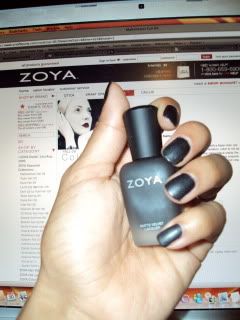 What's your favorite shade in this collection?
Better Hurry up and purchse. This is a limited Edition. For more info-visit
www.zoya.com