Sorry it took so long for me to get back to yu loves. I've been so busy, and overwhelmed. This summer is bringing a lot of surprises. Anyway, how was your weekend? Mine was pretty good. I was trying to figure out a way I could travel the world for free. If you guys have any ideas, please e-mail me.
I'm thrilled because, NY is finally feeling like summer. Although it rained Saturday night, it was absolutely beautiful during the day. I walked 36 blocks to my house. It was great. Saturday night, I went out with the girls, and didn't get home till almost 5 am. (You know DE loves to party with her girls.) But the problem was I had to baptize my friend's kid early in the day. When I got home, I just crashed on my bed, (without washing my makeup off, yuk I know.)When my alarm went off at at 8am, my hair was a mess (that's easy to fix as you know DE is a hair expert) my makeup was all over my face and pillow, and I looked insanely tired, which I was. I had to be in New Jersey by 10:00am ready to baptize the little munchkin, so I needed to do a quick fix. After beautifying my hair, and doing my makeup, I realized I still looked kind of tired. So I whipped out my secret weapon for bright eyes!
Smashbox's Double Eye Brightener
This pencils works wonders. It has two sides to it, one a gorgeous cream color, and the other is cream with a little bit of gold to it. You can literally use it all over your face to highlite your browbone, bridge of nose and cupids bow. I used it on the corner of my eyes, and Wooh! It opened them right up!
After that I used Smashbox's Photo-op Under eye Brightener.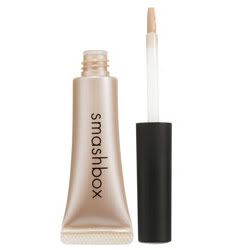 This is the other part to my secret weapon. I use this when I've been partying too much and my concealer alone doesn't work. It really brightens up the under eye area, and after using both of these products, I look like I had ATLEAST 8 hours of asleep. The pics looked amazing.
What's your secret to looking awake?
Have you tried these smashbox products?
Do you know the secret for traveling the world for free?
Hugs,
DE