How was your July 4th weekend? Mine was pretty cool. Life has been absolutely insane, but in a great way. I'm so happy that New York is finally acting like we're in summer. I was getting so sick and tired of the rain. GRRR! Anyway, back to beauty. During the summer months, my skin decides that it wants to act up. All of a sudden, my face becomes a greasy mess, and it's during this time, that I get huge cystic zits. However, I'm noticing that my skin isn't behaving as badly. A product that I've added to my skin care regime is Korres Masque Deep Cleansing for Oily Skin with Imperfections.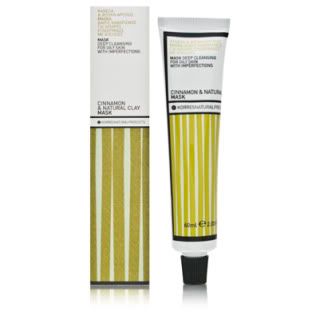 I'd heard about Korres products but had never tried them before. I knew they were from Greece, and upon further research, I found out they were a natural skin care brand. Usually deep cleansing Masque leave my skin incredibly tight, and dry after use, but not this one. When I apply this, I leave it on for around 20 minutes. It has a bit of a cooling effect, and after I remove it, my skin is left very smooth, and soft not tight at all. My pores look much smaller, and best of all, I haven't broken out yet this summer. This masque is loaded with nourishing ingredients like Cinnanom and Zinc which is supposed to regulate the amount of sebum in your skin. I love it!
Thisi is def a beauty logic approved item.
Have you tried the korres masque?
Have you tried Korres products at all.
What did you do for July 4th?
I cut six inches of off my hair this week. lol and I love it (it's still up to my bra strap but in massive layers). if you were one of the people who e-mailed me about the hair tonic, you'll get the ingredients tomorrow.
Hugs,
DE