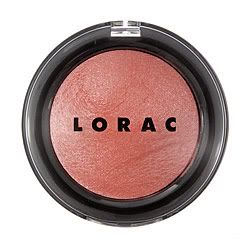 Blush can do some amazing things to your face. I've seen women who don't have a stitch of makeup on, who look pale, and almost dead without it, but once they swoop blush on their cheeks, all of a sudden, they become a brand new hot mama! I'm a tan skin Dominicana, and my skin color constantly changes (yes it's true). If I'm in the sun for more than 20 minutes, I'm a totally different complexion, so I need to find a blush that's flattering for all my different shades,lol. (I tan very quickly even with SPF). Anyway, two weeks ago, I was in Sephora, (there is one right across the street from my job, so dangerous,LOL) and this beautiful Middle Eastern girl walked by me. Her skin color was way lighter than mine, but her blush looked so pretty. So you know DE had to ask where she got it from. She pointed to Lorac's Baked Matte's Satin Finish in Exposed. I was a little nervous to try it. I mean the girl was about 10 shades lighter than me, but the color was such a gorgeous peach. I reasoned with myself that if it didn't work, I'd just dab some of Sephora's makeup remover over it. Well after swooping the blush on my cheeks, I was awestruck. On her white skin, it was gorgeous, peachy, stunning, but on my bronzed skin, it was glowing, with a hint of shimmer, and just breathtaking. It was amazing! I felt like the gates of heaven had open. I couldn't stop staring at myself in the mirror. I kept giggling. Everyone in Sephora clapped for me and I took a bow. (I'm just kidding about that one.) But I did pick it up and have been keeping it in my makeup bag for the last few weeks. I think you'll love it. If you're my skin tone, or even as white as a ghost, this blush is PERFECT.
Do you use any other universally flattering products?
Have you tried Lorac's Baked Matte Satin Finish in Exposed or in any other color?
What blushes are you loving?
Hugs,
DE