I remember a few years back watching the movie, "Fat Albert." I remember this gorgeous caramel woman appeared on screen and I asked myself, "Wow, who is she?" After googling her, I found out her name was Dania Ramirez and since her role in that film, she's been in countless others as well as starring in hit tv shows such as, "Heroes." and "The Sopranos." Recently (as I blogged about) she became the new face of Covergirl. I'm very proud of the fact that my fellow Latinas are making an impact in the beauty business. Dania was nice enough to take the time out of her busy schedule to answer some of my questions. Dania, you're a beautiful person both inside and out, and I thank you.
So without further adieu, let's talk a little with Dania Ramirez.
What is your beauty regimen morning and night?
I apply a cleanser in the mornings and at night. I then moisturize under the eyes, face and neck – usually with a SPF moisturizer during the day. I drink lots of water and getting a good night sleep helps. Also, I try to keep a smile on my face. I read somewhere that it takes a lot more muscles in your face to frown than to smile, that can cause a girl to get wrinkles sooner, lol…
What is your make-up routine?
Concealer, a light non-fragrance foundation, Covergirl's Simply Ageless Cream Blush (super easy and light), a light coat of Lash Blast Mascara (I can apply another coat later for a more dramatic evening look), and finally a pretty lip-gloss…
What beauty product is always in your makeup bag?
Covergirl's Outlast Lipstain, It is always a quick fix for a hint of color on your lips without making them all sticky.
What beauty advice can you give us?
Get plenty of rest. Sleep is so important in the way your skin looks and how hydrated it is. I recommend always blending your foundation from your face all the way to your neck, so you don't look like you are wearing a mask. A real easy tip is to use a nice color lipstick as blush for a quick fix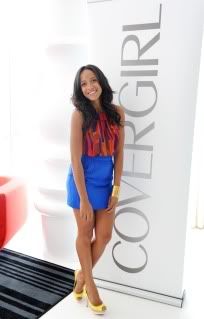 What advice can you give to other women trying to break into the business?
Do your homework, this is a business like any other and you have to be really prepared. Looks can only get you so far, after the doors are opened you have to deliver with talent in order to have longevity in this business. You must have a lot of drive and perseverance. If someone close the door on your face or you are faced with obstacles, do not take it personal, keep knocking doors and someone will open, or at least unlock it.
What general life advice can you give us?
Love yourself enough to live life as full as you possibly can everyday and to know that you deserve it all. Love yourself enough to love, experience and accept where you are at so that even if it is hard and full of challenges and sadness, you can learn from the experiences and get to where you're going.
Thanks Dania,
Big Hugs,
DE