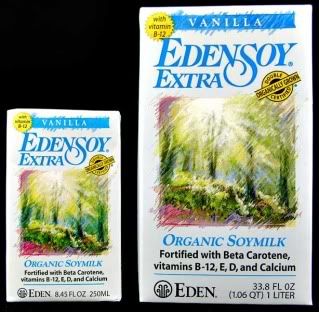 Alright guys, not sure if I ever told you, but I've lactose intolerant. All I ever drink is soy milk. Well, a recent study says that soy milk is fab for anti-aging. According to USA today:
One Japanese study found that soy produced visible results: After eight weeks, women who ate foods containing 40mg of aglycone, a soy isoflavone, each day saw improvement in their skin elasticity, in comparison with women who ate non-soy-based foods. And after 12 weeks, the women eating soy noticed a reduction of fine lines.
I'm a soy fanatic. I love Edensoy soy milk in vanilla, it's delish. I drink soy with my cereal, and yes even in my coffee. My favorite starbucks drink is a soy chai 5 pumps of chai, no water, extra hot. So drink soy milk, not only does it taste good, but it will keep you looking young and beautiful.