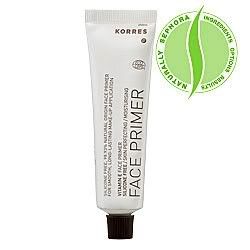 My skin is so super sensitive, it's ridiculous. Because I'm a tan skin mama, the slightest irritation can lead to me having dark marks all over my face for MONTHS! I hate that! Anyway, I always try to use primers on my skin before foundation. They're important because they act as a barrier between your skin and makeup. One that I am adoring, is Korress Silicone Free Primer. I first heard about this because it won Sephora's best of the best. However, I never pay attention to that. One of the reasons I started beautylogic is because I got tired of so many beauty magazines, and companies claiming that a product was fabulous, but when I got my hands on it, it usually was a dud. Well this product actually lives up to the hype. What I love about this is that most primers do contain silicone which can irritate your skin, but not this one. It's loaded with vitamin E, jojoba oil and something called edelweiss extract (not sure what that is). What I do know is that this leaves my skin super soft, and moisturized. I haven't had any breakouts at all since using this. Not only that, but my skin looks super flawless, my makeup application is a dream, and it last all day.
I love this stuff.
Have you tried Korres' face primer?
Do you love it?
Hugs,
DE
Winners of Profound Beauty Giveaway are:
1) Cinthia Garcia
2) Ashley Wallace (she sent me pics of her daughter, holy crap, she is super cute, and gorgeous hair too)
3) Alanna
4) Nichol
5) Melissa V
Please send address or I'll have to give this to someone else.
Hugs,
DE