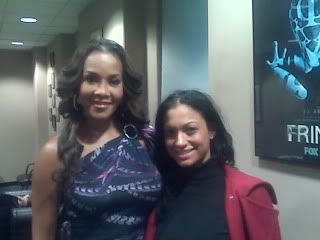 (Disclaimer: I look horrible in this photo, it was raining, no makeup, around 7:00 am and I'm standing next to Vivica Fox. lol)
Even after a career spanning over 16 years, she's still one of the most in-demand actresses in Hollywood. Vivica Fox has starred in such mega films as Independence Day to Kill Bill to being in one of my favorite tv shows Curb Your Enthusiasm as Loretta Black (HYSTERICAL)and she'll soon be on the Nickelodeon hit series True Jackson. I got a chance to hang out with Vivica last week, and she was great. Seriously I felt as if I had known her forever. She was so willing to talk beauty. We love her here! So without further adieu, let's chit chat with Vivica Fox.
DE: Vivica, your skin is flawless, what's your beauty regimen?
Vivica

: Girl, I'm a huge fan of microdermabrasian. I always do it once a month. It just evens everything out. I also try to take a lot of steam showers because I feel like it just keeps my skin hydrated. I remove my makeup with Noxema Wipes. They are inexpensive, and just get everything out. I love Dermalogica products. I start with Dermalogica's Skin prep scrub. Then I use their Active Moist leaves my skin feeling great. Oh, yes make sure you take care of your under eye area-because believe me, it shows if you don't. I'm a huge fan of their Total Eye Care. Also my dermatologist prescribed Clindamycin for skin as well. After everything, I make sure to use my Shue-Uemura Rose Mist Spray. Love it. Take care of your skin from when you're young. Don't start when it's too late.
DE: What's always in Vivica's Makeup Bag?
Vivica
I keep it simple girl. Just a clear mascara and a Chanel Lipgloss.
DE: What advice would you give to any woman trying to get into your business?

Vivica:
Make sure you take drama classes. People think that acting is easy, unfortunately it isn't. It requires a lot of work. Also, make sure you take care of yourself because as soon as you walk into that audition, there are going to be thirty other pretty girls in there but what will keep you surviving is Confidence. Confidence is Key. Know that it's yours, and it will be.
What is your life advice to us?

Vivica: Above all keep your skin clean, and your spirit happy. Because the fact is beauty comes from the inside.
I asked Vivica's makeup artist Elenna R George what two products she always uses on Vivica. She said.
Mac Lust lipglass
. Just looks gorgeous on her, and
Makeup Forever Face & Body #12
. Keeps her skin looking amazing, but doesn't make her look like she's wearing a mask.
AGAIN GUYS, A CONTINUATION IN OUR PATTERN OF SUCCESS. NOTICE HOW CONFIDENT VIVICA IS. KNOW SUCCESS IS YOURS AND IT WILL BE.
HUGS,
DE