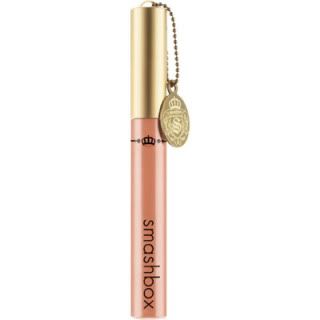 In life, I try to have everything positive around me. When a product has a cute and positive name, I'm a sucker for picking it up. I own a 2 dollar purplish red polish (ugliest color you've ever seen) called "You're a winner." I'd never wear it, but i love the name. So when I heard about Smashboxes Crowned, I had to have it. Hello, I'm a Queen!
I'm so happy I picked it up though. In my video "6 mistakes you should avoid in a relationship," I got so many e-mails asking what shade of gloss. I was wearing. It's Crowned baby! The name alone makes me feel like royalty. The color is such a gorgeous and rich peachy nude. It's stunning on tan skin, and really makes my lips look juicy and sexy (although I don't have thin lips, I do like to always make them look bigger.) The consistency is not thick or tacky at all, it applies like a dream and the best thing is, it's hair approved, meaning that when the wind blows, my hair doesn't stick to my lips. I am so loving this gloss.
Have you tried crowned by Smashbox?
Are you loving the shade.
Hugs,
DE