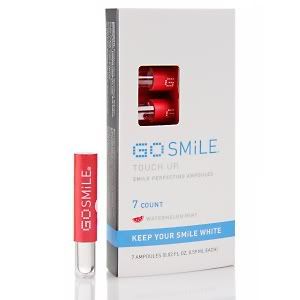 I went to a great brunch spot in Brooklyn last week with a group of girlfriends. One of the girls invited her coworker, and she was absolutely beautiful. But when she smiled, all I remember was wanting to recommend a tooth whitener to her. This gorgeous Goddess had very yellow teeth. (Not a good look at all!) Nothing can make you look worse than yellow choppers and in this day and age there is no excuse for that. DE drinks 8 cups of coffee a day. (DE is a Café Bustello/Starbucks/Dunkin Donuts coffee addict!)But you would never know because DE takes such good care of her teeth it's ridiculous. (Why am i talking about myself in the third person? I'll stop! lol.) They are super white. Now God knows I can't brush my teeth every single time I finish a cup of coffee. Gosmile is thinking just like me. They've come out with Gosmile Touch Up!
This is a quick touch up tooth whitener. Right after you eat or drink something that can potentially make those teeth a little less gleaming, you can just use the "Go Smile" touch up system. It's a cute little ampule, that you flip over, pop it and then rub it all over your teeth. It comes in 3 different flavors, green apple, fresh mint, and watermelon. I tried Watermelon, and am loving it. After a cup of coffee, your breath isn't smelling so fresh either. This product not only maintains the whiteness of my teeth but makes my breath smell delishly fruity as well. Mr. DE gave me a kiss after I'd had one, and said it was yummy. Lol
Have you tried Go smile?
Are you crazy obsessive about your teeth too?
Hugs,
DE