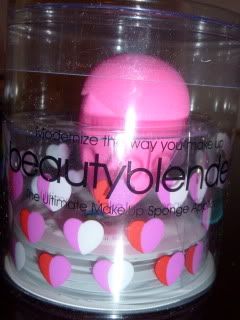 Sad to say but the streets of Manhattan are full of beautiful women who just don't seem to know how to apply makeup. I'm no expert, but one thing I do know is that when you wear foundation, it should look seamless. I shouldn't be able to see patches of different colored makeup or streaks and lines all over your face. The key to great makeup application is blending, and I'm happy to say that a product that I recently tried and will help with the foundation blending process (IMO it's best with use cream foundations) is the beauty blender. This egg-shaped sponge has been all the rave lately. Kim Kardashian's makeup artist Mario Dedanovic (who is a great makeup artist) uses it when he applies her makeup and I've been using it as well when I use my cream foundation. The egg shape of the product really makes hard to reach areas a breeze to reach. All you have to do is moisten the sponge, and apply your makeup as normal and you'll notice a difference in how blended, and uniform your makeup looks.
Have you tried the beauty blender? Here's Mario using it on Kim.
What were your thoughts?
Hugs,
DE

FYI:THIS BEAUTY BLENDER WAS PROVIDED AS A SAMPLE BY THE PR COMPANY. BELIEVE ME, THAT IN NO WAY HAD ANYTHING TO DO WITH MY REVIEW.