If you're reading this post, you're probably looking for a non-toxic lip balm to keep your lips soft and moisturized. Perhaps you're looking to switch from a mainstream petroleum or mineral-oil product. Maybe you already have an organic lip product but you're not sure it's the best organic lip balm. Whatever your situation, this post will key you in on six organic lip balms which are among the best.
Erbavia Vanilla Grapefruit Lip Balm
This is a flavorful balm with an energizing citrus scent. It has a shea butter base and contains organic essential oils from grapefruit and lemon peel along with vanilla extract. Erbavia Vanilla Grapefruit Lip Balm also contains organic wheat germ oil which is quickly absorbed into the skin for a moisturizing effect. Wheat germ oil contains several vitamins and antioxidants which protect skin from damage while organic jojoba oil helps with hydration and promotes the renewal of your skin. It is also non-greasy. This lip balm does not include any harmful preservatives. Instead, organic rosemary CO2 extract is used to keep it fresh.
Dr. Bronner's Organic Lip Balm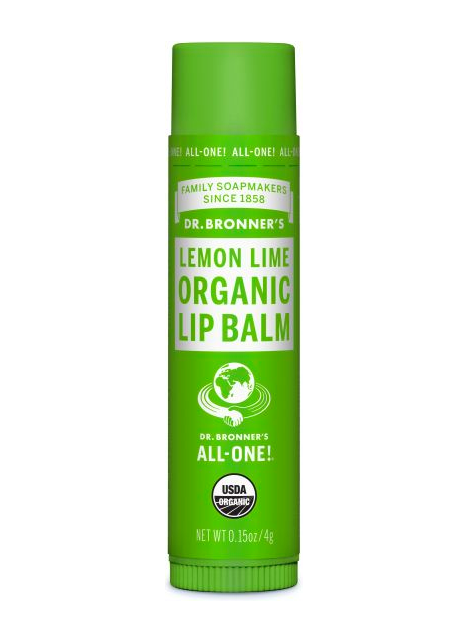 These are made with organic beeswax and contain no synthetic ingredients. Dr. Bronner's Organic Lip Balm helps to protect the lips from sun, cold and wind. Organic jojoba, avocado, and hemp oils help to boost the moisturizing effect. The lip balm is certified organic to USDA National Organic Program standards and is non-GMP product verified. It is not tested on animals.
Juice Beauty SPF 8 Lip Moisturizers
If you want some protection from the sun's damaging rays while you keep your lips soft, check out Juice Beauty's SPF 8 Lip Moisturizers. They are perfect for all types of skin and hydrate with organic sunflower and coconut. They smell divine thanks to passionfruit and mango essence and contain Vitamin E for an extra dose of nourishment. Juice Beauty SPF 8 Lip Moisturizers contain no chemical sunscreens; they protect with mineral zinc oxide. The formula is free from harmful ingredients like parabens, petroleum, sodium lauryl sulfates, pesticides, phthalates, artificial dyes or synthetic fragrances.
Christina Moss Naturals Organic Lip Balm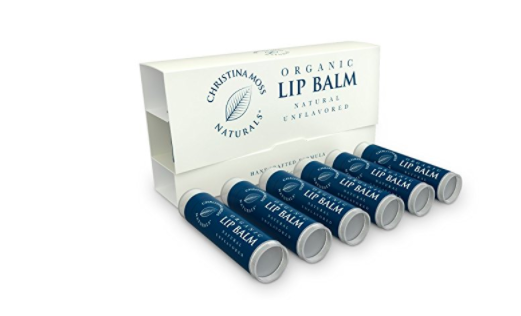 This lip balm is made using only certified organic ingredients that are safe for the whole family including people with sensitive lips. They include castor oil, beeswax, sunflower seed oil and coconut oil. Christina Moss Naturals Organic Lip Balm is non-toxic and non-GMO with no synthetic flavoring, toxic chemicals or petroleum.
If you have allergies you need not worry since these products are free of soy, corn, gluten and synthetic fragrance. They are also cruelty-free meaning they are never tested on animals and the packaging is made from recycled materials that are 100% recyclable. Christina Moss Naturals Organic Lip Balm is an all-around green product.
Bare English & Co. Green Tea Infused Lip Balm
Bare English & Co. Green Tea Infused Lip Balm is organic, vegan and cruelty-free. It does not include gluten, beeswax, petrolatum, parabens or phthalates. Instead, it contains several certified organic ingredients including coconut oil, sweet almond oil, castor oil, jojoba seed oil, olive oil and cocoa butter. In addition to containing wholesome ingredients, Bare English lip balms are also pretty exciting. They come in an extensive range of unusual fun flavors including banana bread, caramel popcorn, chai tea latte and mint chocolate.
So, whether you're looking for your first organic lip balm or you simply want to add to a growing green collection, these are six of the best organic lip balms on the market. Give one or two a try!
100% Pure Organic Mint Lip Balm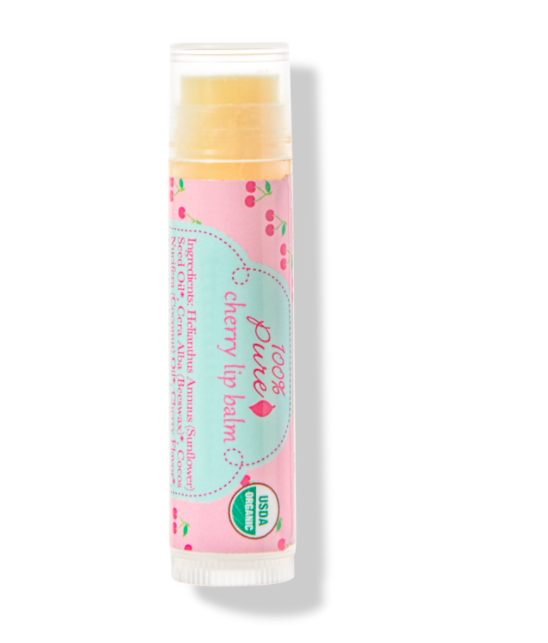 100% Pure is one of the leaders in natural and organic skin and beauty products and this lip balm does not disappoint. It is vegetarian and has a refreshing mint flavor. 100% Pure Organic Mint Lip Balm contains a number of organic ingredients including sunflower seed oil, beeswax, coconut oil, peppermint oil, eucalyptus oil, rosemary leaf extract. You'll also find the moisturizing properties of Vitamin E.